UISP-Cable-Pro - Cat 5E Outdoor Cable
Price excl. tax:
250.00лв.
Price inc. tax:
300.00лв.
Code:

UISP-Cable-Pro

Weight:
Industrial-grade Ethernet cable that protects your network from elemental and electrostatic damage
The UISP-Cable-Pro is a Category 5e cable with a highly insulating, weatherproof jacket that prevents damage from rain, snow, and other extreme climatic conditions. The cable is also fortified with internal foil shielding and a drain wire that collectively shield it from electrostatic discharge (ESD) and allow it to maintain Gigabit Ethernet link rates even when electromagnetic interference is present.
Features:
1,000 ft (305 m) Category 5e cable

24 AWG solid copper conductor pairings

Insulated, weatherproof cable jacket

Internal foil shielding and drain wire for increased ESD damage protection

Quick Buy
Just 2 fields to fill in
We will contact you to finalize the order
Protect your networks from the most brutal environments with Ubiquiti Networks' industrial-grade, shielded Ethernet cable, TOUGHCable. Increase Performance Dramatically improve your Ethernet link states, speeds, and overall performance with Ubiquiti TOUGHCables. Extreme Weatherproof Designed for outdoor use, TOUGHCables have been built to perform even in the harshest weather and environments. ESD Damage Protection Protect your networks from devastating electrostatic discharge (ESD) attacks. Extended Cable Support TOUGHCables have been developed to increase power handling performance for extended cable run lengths.
TOUGHCable Connectors Specifi cally designed for use with Ubiquiti TOUGHCables and available in 100-pc. bags, TOUGHCable Connectors protect against ESD attacks and Ethernet hardware damage, while allowing rapid fi eld deployment without soldering. ESD attacks are the leading cause for device failures. The diagram below illustrates the areas vulnerable to ESD attacks in a network. By using a grounded Ubiquiti Power over Ethernet (PoE) Adapter along with Ubiquiti TOUGHCable and TOUGHCable Connectors, you can effectively protect against ESD attacks.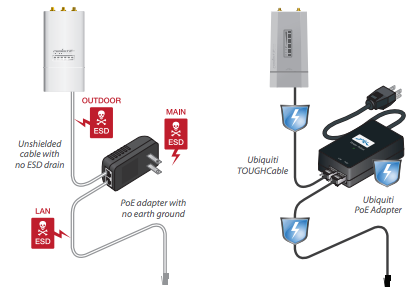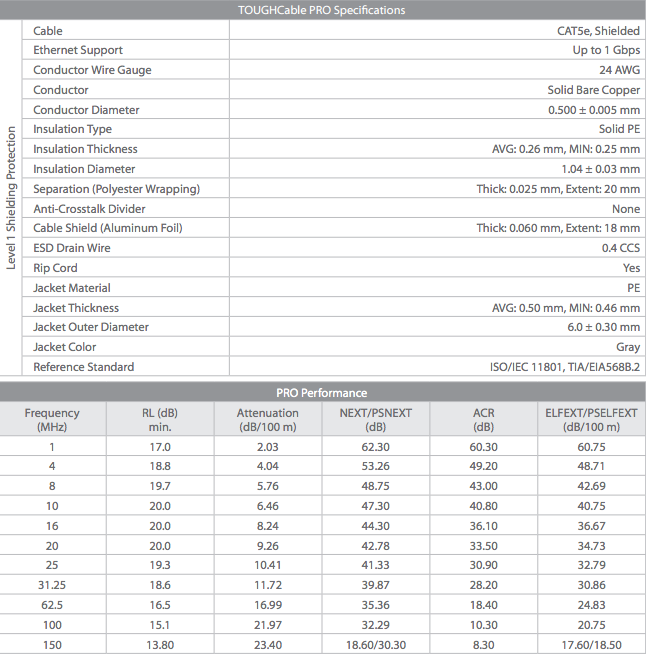 Много качествен кабел, предпочитаме го въпреки цената