The B5 Backhaul is changing the game. Leveraging 802.11ac, 4x4:4 MIMO and radical engineering for service providers that demand the same capacity, speed and reliability as fiber. With 1.7 Gbps PHY and a unique spin on reliability, the B5 is re-defining gigabit wireless technology. B5 is capable of 1Gbps throughput and has an integrated dual-polarized antenna with 25dBi of gain. Ready to handle the next wave of 5GHz, the B5 is operational from 5150-5850 MHz. The B5 brings with it an entirely new set of features never seen before in the outdoor wireless market. Read our TDMA and Collocation Synchronization whitepaper to learn more about using the B5 in your network.
Dual Link revolutionizes backhaul reliability by load balancing across two non-contiguous channels to avoid outages due to interference. If one channel experiences interference the radio maintains connection while simultaneously searching for new replacement channel. Additionally, Dual Link adds value by easing difficulties when searching for available spectrum in congested areas. Now, bandwidth can be split across two different channels. Experience the same throughput, with less complication.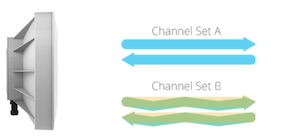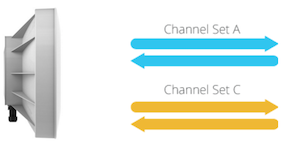 TDMA-FD - For the highest interference environments, the new TDMA-FD (Frequency Diversity) feature allows each radio to operate on a separate preferred RX channel that is optimal for local interference. After the RX window has completed, the radio then flips channels to TX on the preferred channel of the remote side radio. This mode can be enabled for 1 x 20/40/80 MHz modes, for IP throughputs up to 750 Mbps.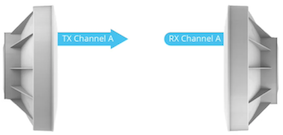 Auto Everything - Wireless interference can change in an instant, and your network needs to adapt. The Mimosa B5 offers constant spectrum analysis with historical and real-time data to dynamically make smarter decisions. The Auto Everything feature will automatically adjust frequency, channel width and power levels based on environmental feedback. This feature can be turned off for users that prefer more control.

Local and Network-Wide Spectrum Multiplication - With scarce spectrum and lots of traffic to transmit, collocation of devices is a must. While this has been a constant struggle for most of the products on the market, the B5 takes an advanced approach. Using standard GPS and GLONASS for sync, we can ensure that all radios on the network are transmitting and receiving at the same time to avoid any interference. For even more protection, we use the most advanced RF isolation on the market, allowing radios to operate in close proximity to one another. Learn more: TDMA and Collocation Synchronization Whitepaper.